For any guy navigating the uncharted waters of a new relationship, there are necessary obstacles that must be contended with, but none more for formidable than meeting the parents — specifically, her father:
What is this, Shawshank State Prison? Dads can be real ballbusters sometimes.
But why should I give a sh*t about that old dude?
Getting in with him is the most effective way to get with her — I mean, if that's your goal. Also, it's a nice bonus to have someone you can watch games with if you get stuck going to your girl's family parties.
Because her dad can end up being the father that you always wanted…
He could give you the "birds and bees" talk with more power.
…or, just as easily, a barrel-throwing gorilla hell-bent on keeping you away from his princess.
In this scenario, you're a plumber. That's a great job and her old man's still not happy! Dads, am I right?
Determining which dad she has starts by learning what kinds there are.

There are more than three types of dads and really only one kind of mustache.
1) The Overprotective Dad
When you met this dad, he was conveniently in the middle of cleaning his guns. He mentions that you look like the guy who killed his best friend whenever he sees you holding hands with his daughter, so sex in his house is definitely out of the question. To get around this, do it somewhere he won't find you: the backseat of a car in the graveyard parking lot.
2) The Too Cool Dad
The opposite of the Overprotective Dad. He prefers that you do it in his house, where he knows you're safe, rather than the backseat of a car in the graveyard parking lot. He'll even offer condoms. This guy's cool af.
3) The Dad Who Just Wants To Be Buddies
The difference between the last dad and this one is that this dude always wanted a son and is willing sacrifice his daughter to get one. He'll invite you to help yourself to the beers in his fridge and will even go so far as to offer you pot if he thinks it'll get you out back for a game of catch.
4) The Unhappy Dad
This dad is just exhausted from the rigors or being a father. He sees a lot of you in him. Real exchanges with this guy are few and far between because he's up for work at 5am and goes to bed right after dinner. He loves his family, but during parties, he takes you aside and warns you like the Ghost Dad of Christmas Future to run for your life before you make the same mistakes he has. Take his advice.
5) The Negligent Dad
Your girlfriend likes to party all the time, but she didn't get to be so fun without this dad's (lack of) help. His hands-off approach to parenting forced his daughter to grow up fast. If you ever meet him, he'll ask to bum a cigarette and need a ride somewhere that's open in the middle of the night. You get to become the responsible guy that your girlfriend never had — all you have to do is be there for her, forever. No pressure.
6) The Funny Dad
My favorite kind. He's hilarious in a corny dad-joke way. Watch in amazement as this master of puns performs bits that are sometimes just inside jokes he has with himself. His daughter may have stolen your heart, but this man has stolen your nose.
7) The Racist Dad
The only jokes this dude knows are the kind where he has to look around first to make sure it's "safe" to whisper. While he's not technically funny-funny, he IS loud — and boy howdy, is he uncomfortable around brown people. He's got a lot of opinions and they all come from a bad place. There's an #AllLivesMatter bumper sticker on his truck and he clutches a concealed carry whenever he drives through what he considers a "bad neighborhood."
8) The NPR Dad
The opposite of the Racist Dad. When he's not complimenting you on the rich history of your culture, he's over-empathizing with the plight of "your people." He's always talking your ear off about world events, so you gotta study a newspaper or follow C-SPAN on Twitter just to hold a conversation with this dude. He'll offer up his Tesla because he doesn't want you creating a bigger carbon footprint when you take his daughter out in that "gas guzzler" you're driving.
9) The Old Ass Dad
Don't break the news to your girlfriend, but she's probably an "accident," because this dad was already supplementing with Metamucil and flexing an AARP discount by the time she was born. He's pretty uninvolved with her life; it's not that he doesn't care about his little girl, it's just 7pm, so he ate supper an hour ago and is ready to go down for the night. His daughter's changed his diapers as much as he has hers.
10)  The Dad Who Looks Like You, But Older
Your girlfriend won't call you "papi" because it's "too weird" and you didn't know how right she was until you met her dad. It's like looking into a Freudian mirror, or that one Snapchat filter. He's noticed that you look like the young version of him — and so has his wife! If you play your cards right, it seems only logical that you could make a play for her, too.
11) The Red Flag Dad
You wouldn't have even noticed that your girl's drinking was cause for concern without this dad. He puts the D-U-I in the sentence "My dad got another DUI." He learned the alphabet backwards, "just in case."  He's deceivingly smart for a guy you first met while his head was stuck in a doggy door. He smells like a brewery and is always a little too close to you when he talks, but he's nice even if he doesn't like you because he never knows if he'll need to borrow some "clean" pee in a pinch.
12) And Finally, The LEGIT Scary Dad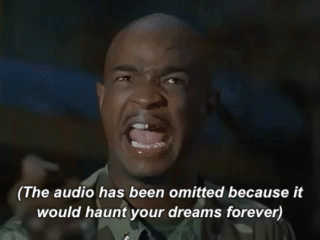 Some dads act tough, but this one's got the body count to back it up. He's been to war and will casually drop his total number of confirmed kills into any conversation. He rarely speaks, but every time he does, you pee a little bit. Once, you saw him in a dream for like, a second, and then that was it — like, nothing noteworthy happened, but that alone was enough to make it a nightmare.
All dads are alike in that they weren't fathers until suddenly, they were.
I shudder to imagine how startling it must be to switch from selfish to selfless in the drop of a sperm. One day you're swiping away with reckless abandon and the next you're losing sleep to protect your little girl from the kinds of wolves that you used to be.
If you believe in karma, I've lived the sort of life that guarantees I'll have a daughter.
This article was inspired by my own fears as I prepare to someday become a father. Looking at the list of dad types, maybe you'll get a glimpse at which one you will be. Hopefully, it's not the kind whose daughter has sex in the backseat of a car in the graveyard parking lot.