For many, going out to your favorite team's ballpark is a way of life, but for an unfortunate few, it can also be a way of death — or at least, serious injury. As a stadium spectator, you can wear sunscreen and a baseball glove to protect yourself from risks like sunburns and stray foul balls. But when a player suddenly loses grip of his bat and sends it flying into the stands, all you can do is pray it hits someone else. This was the case last week at Petco Park in San Diego.
During the 9th inning, Padres catcher Hector Sanchez's bat flew into the stands and hit a fan right in the head.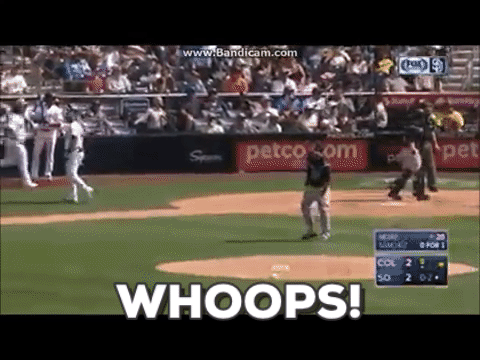 Sometimes it's the bats that don't turn into vampires that you should be afraid of. Yikes.
The game was paused while she treated for injuries.
Stadium medical personnel could be seen bandaging her head and helping her walk away her from her seat.
Sanchez spoke to reporters after and says he feels "really really bad" about the incident:
#Padres catcher Hector Sanchez on the injured fan today at @PetcoPark. pic.twitter.com/JAyswfVrUq

— Jeff Sanders (@sdutSanders) May 5, 2017
You can tell from the video that he felt pretty bad about it. At least, it appears she's going to be okay.
The San Diego Padres organization took to Twitter to address what happened:
Statement from the Padres: pic.twitter.com/36i7A8P7eh

— San Diego Padres (@Padres) May 5, 2017
It's reassuring that the organization is taking the initiative to discuss safety regulations. Fans should never be at risk when they go to a stadium to support their favorite teams, especially with ticket prices being as high as they are.
READ: What If Your Girlfriend's Bedroom Habits Are Slowly Killing You?
[H/T] SBNATION: Padres fan injured after Hector Sanchez's bat goes into the stands
Please leave a comment! Share this story with the world by tapping the SHARE button below!