You probably know David Ortiz as "Big Papi," the designated baseball crusher for the Boston Red Sox.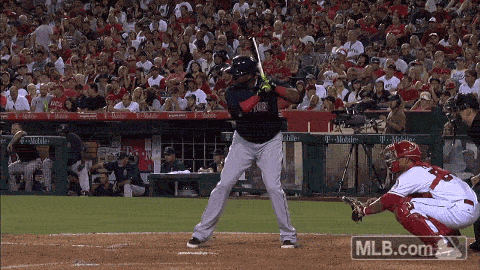 The ten-time All-Star is a World Series Champion with three rings and an MVP award to prove it. Throughout his incredible career, he's had more hits, HRs, runs scored, and RBIs than any other designated hitter ever has before. But, now he's adding something more to his resume.
Since retiring, the Santo Domingo-born slugger has penned a memoir  that's as hard-hitting as you'd expect from the man who dropped an F-bomb on live television.
The Boston Globe reports that although "Papi" covers his time as a player, the expletive-heavy memoir goes way beyond Ortiz's life inside the baseball diamond. He candidly takes readers through his early life and childhood growing up in a violent Dominican Republic neighborhood where shootings happened "almost every day."
In classic "Big Papi" fashion, Ortiz speaks honestly about his parents. He opens up about his mother's fatal car accident in 2002 and reveals that his father was the one who pointed him toward the sport of baseball.
Ortiz also takes readers through his relationship with his wife, Tiffany, by talking about their courtship and their children, as well as their marriage, divorce, and eventual reconciliation. To the delight of Boston fans and American patriots alike, he also addresses the Boston Bombing and the impassioned 'this is our f—— city!' battle cry that went down on live television. "I cursed terrorists and spoke up for freedom without fear," says Ortiz.
Check out David Ortiz' memoir, 'Papi: My Story' when it hits shelves everywhere on May 16th.
READ: This Is Legit The Scariest Things That Can Happen At A Baseball Game
[H/T] The Boston Globe: This is David Ortiz's [expletive] memoir
Share this story with the world by tapping the SHARE button below!